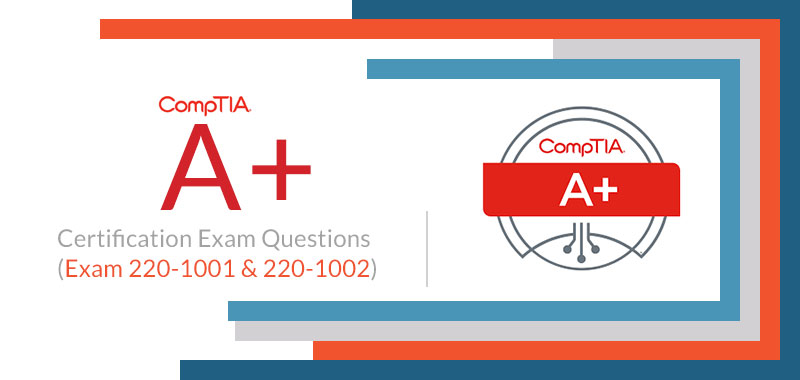 Notice: If you cannot access https://www.lead4pass.com/220-1002.html on this site. Please search Lead4pass 220-1002 in google to access.
CompTIA A+ is a very popular core technology certification series ranging from security to cloud to data management.
Successfully obtaining CompTIA A+ certification is something to be proud of.
The latest popular CompTIA A+ series include: CompTIA A+ Certification Exam: Core 1 (220-1001), CompTIA A+ Certification Exam: Core 2 (220-1002).
If you are a newcomer, you should first visit CompTIA A+ official basic information, which contains all the basic details of the exam
Next, you should participate in this CompTIA 220-1002 exam practice test, first check your real ability, of course,
these are only part of the dumps of Lead4Pass 220-1002. Get the complete CompTIA 220-1002 exam dumps path: https://www.lead4pass.com/220-1002.html. Pass the exam 100% successfully.
CompTIA 220-1002 online practice test
The answer is at the end of the article
QUESTION 1
Which of the following wireless security protocols supports the use of a 40-bit encryption key?
A. TKIP
B. WEP
C. WPA
D. WPA2
QUESTION 2
A technician discovers a user\'s home computer has Windows Update disabled and suspects malware has replaced
several Windows OS files.
After completing a malware scan, which of the following command-line utilities would the technician MOST likely run before enabling Windows Update?
A. xcopy
B. chkdsk
C. sfc
D. gpupdate

Reference: https://www.lifewire.com/sfc-command-system-file-checker-2626020
QUESTION 3
A user\'s computer consistently shuts down several minutes after booting.
When the technician reboots the computer, a message stating "CPU fan failure" appears.
Which of the following is the MOST likely reason the computer shuts down?
A. Overheating
B. Power supply failure
C. Faulty CPU
D. High humidity
QUESTION 4
Which of the following OS features is unique to Windows 7?
A. Action Center
B. Automatic Updates
C. Add/Remove Programs
D. Tablet PC Settings
QUESTION 5
Ann, an employee, recently reported to the company\'s IT technician that her smartphone is exhibiting strange
behavior.
When she opens the application store.
an error appears that indicates there is no connection, However, the phone still receives emails and can access the Internet from the browser.
The phone was backed up recently and auto connects to a VPN.
Which of the following troubleshooting steps should the technician take NEXT? (Select TWO).
A. Reset the network settings
B. Uninstall the application store.
C. Restore from a backup.
D. Clear the application cache and data
E. Check the time and date settings.
F. Reset application preferences.
QUESTION 6
The IT department must ensure previously used passwords cannot be reused when users change their passwords.
Which of the following password policies should be enforced to meet this requirement? (Select TWO.)
A. Password complexity
B. Password history
C. Password length
D. Maximum password age
E. Minimum password age
F. Lockout threshold
QUESTION 7
Six months after a new version of an OS was released to the market, end-users began to lose access to the application
updates.
Which of the following was MOST likely the reason for this issue?
A. Update limitations
B. Limited access
C. End-of-life
D. Network connection
QUESTION 8
A company located in a metropolitan area is surrounded by different public businesses (e g., coffee shops libraries).
The security team is concerned that unauthorized neighboring customers will connect to the corporate WiFi, which could result in data breaches.
Which of the following is the BEST solution to reduce the security vulnerability with the least administrative effort?
A. Disabled SSID broadcast
B. Encryption settings
C. Enabled MAC filtering
D. Content filtering
QUESTION 9
A user has been receiving reply emails from many contacts but the content of the emails is not familiar and the user did not send the original messages.
The user calls the help desk for assistance.
Which of the following is the BEST way the technician can fix this problem?
A. Perform an antivirus scan
B. Perform a refresh/restore
C. Perform an IDS upgrade
D. Perform a reinstall of the email client
QUESTION 10
When a user browses to a favorite website on a Windows laptop, a different website opens.
A technician installs an additional web browser, but it also opens to the same unfamiliar site.
The technician resets the web browser settings back to default, but the issue persists.
Which of the following troubleshooting steps should the technician complete NEXT?
A. Change the browser\'s home page
B. Check the Windows host file
C. Update the default web browser
D. Restore Windows to a previous date
QUESTION 11
After a virus has been spread unknowingly via USB removable hard drives, a technician is tasked with limiting
removable hard drive access to certain network users.
USB ports are used for many devices, including scanners, printers, and signature pads, so a policy is created to deny access to removable hard drives only.
When testing the policy, a removable drive is plugged in but can still be accessed.
Which of the following command-line tools should the technician use to apply the new policy?
A. gpupdate
B. diskpart
C. gpresult
D. net use
QUESTION 12
The IT department is implementing three-factor authentication for traveling users who connect to the network via VPN.
Which of the following BEST addresses this request?
A. PIN, username, and password
B. PIN, token fob, and fingerprint scan
C. PIN, fingerprint scan, and username
D. Key fob, smart card, and password
QUESTION 13
Which of the following activities would BEST be described as social engineering?
A. Downloading Spyware
B. Bribery
C. Writing down passwords
D. Brute force
Verification Office:
| | | | | | | | | | | | | |
| --- | --- | --- | --- | --- | --- | --- | --- | --- | --- | --- | --- | --- |
| Q1 | Q2 | Q3 | Q4 | Q5 | Q6 | Q7 | Q8 | Q9 | Q10 | Q11 | Q12 | Q13 |
| B | C | A | A | AE | BE | C | A | A | B | A | A | B |
PS.

CompTIA 220-1002 exam PDF download

Google Drive: https://drive.google.com/file/d/1bY7B7HGsEjBi_k_mDa_AP1ef-GzN4Ln8/view?usp=sharing

All in, thanks for reading! Successfully passed the CompTIA a+ 1002 exam and entered the 220-1002 dump channel https://www.lead4pass.com/220-1002.html.

If you like it, please bookmark it!

Like please help share!

Thanks!